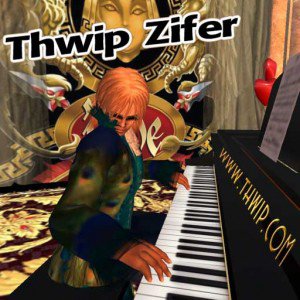 So what are the SL Sessions?  These are early recordings made of live Second Life performances between the years of 2012 and 2014.   
I was known as Thwip Zifer and had a small piano bar hidden in the middle of a New Orleans themed SIM.  During my time as Thwip I played on many sims in various Festivals, weddings, and events. I had a regular gig at a club and was managed by Bobbijo of Symbiotic.  Occasionally I would play in my mountain castle.  🙂
This was early in my streaming career.  I was learning how to balance sound levels, had occasional sound drops for various reasons, and other obstacles.  I was managing recording with getting the stage/avatar ready online with sim settings.  The fountain was a prominent feature and one performance seems to have  recorded that sound rather than the piano. 
Hope you enjoy the raw footage.  As I go through it, I plan to pull out the empty space.  I am in the process of returning to SL and have Thwip labeled as Twinklekeys now. 
'Wait for it….'